DATE / TIME:

2022•11•03 15:00 - 16:00
Date: November 3, 2022
Speaker: Mr. Keith Detros
Time: 15:00 UTC+8 / 7:00 UTC via Zoom Time zone converter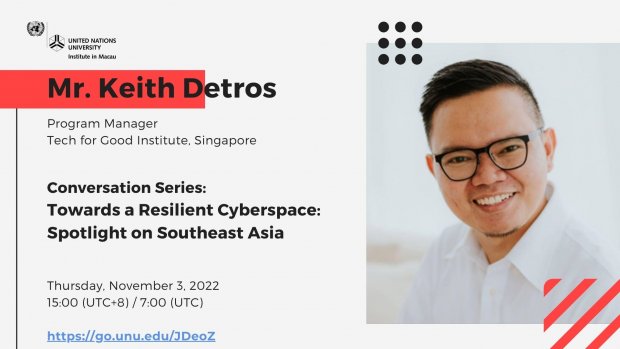 Abstract: Southeast Asia's digital economy is undergoing a massive transformation with countries in the region recognizing the role of technology in achieving economic progress. It is estimated that the digital economy will double by 2025, with its value growing to $363 billion. By 2030, Southeast Asia's internet economy is projected to grow to $1 trillion by 2030, buoyed by 125,000 new digital consumers joining the internet every day.
The region's digital adoption, however, is not without its threats. Even before the pandemic, there were concerns that the region was becoming a "hotbed" for cyber-attacks. It is expected that exposure to cyber risks will further increase as economies in the region pursue regional integration through more trade and connectivity. Thus, there is a need to lead discussions on how economies in Southeast Asia can address the rising cyber threats.
This research seminar provides an initial view of a conceptual framework on how Southeast Asia can develop cyber resilience. The key discussion is to shape conversations not only for preventing cyber-attacks, but also ensuring that economies can adapt. Such framework gives an overview of the state of cyber resilience in the region, with potential for country deep-dives aimed at offering a more specific path towards building resilience in the face of fast evolving cyber risks.
Bio: Keith Detros is a programme manager at the Tech for Good Institute, in Singapore. He leverages almost a decade of experience in government affairs, evidence-based policy research, and stakeholder engagement to work on areas at the nexus of technology and public policy. He previously served as digital economy specialist at the U.S. Embassy in Manila, Philippines. Earlier in his career, he was a Research Specialist at the Philippine Institute for Development Studies.  He continues to be involved in policy studies on cyber resilience and the digital economy. He holds a Master's degree in International Affairs from the National University of Singapore's Lee Kuan Yew School of Public Policy and a BA in Political Science from University of the Philippines Manila.