2018•12•24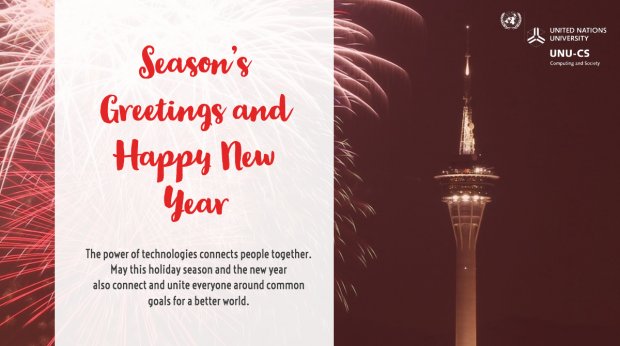 "Wishing you happy holidays and a new year filled with prosperity and success!"
–  Dr. Jingbo Huang
Assistant Director of UNU Institute in Macau
---
On behalf of UNU Institute in Macau team, I would like to take this opportunity to thank our partners and other stakeholders for their contribution and support for our institute. In the third year since the establishment of UNU Institute in Macau and the adoption of UN Sustainable Development Goals, 2018 has brought the institute to a new milestone.
We will not rest on what has been accomplished this year since much has yet to be done to maximise and utilise the power of ICTs to achieve sustainable development. In line with the UN Secretary General's Strategy on New Technologies, we will work closely with new and current partners to overcome challenges and reconcile interests, especially in the areas of privacy and human rights, ethics, equality and equity, sovereignty and responsibility, and transparency and accountability. We will continue to move forward with you as our partners in this journey.
We wish you peace, health, prosperity, and success in 2019.
Dr. Jingbo Huang
Assistant Director
United Nations University
Institute in Macau