2017•08•29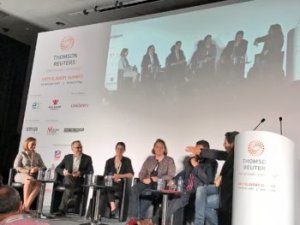 Thomson Reuters Anti-Slavery Summit was hosted in Hong Kong on 29 August, at Asia Society. This summit brought together businesses, non-profits, governments, lawyers, and academics to discuss the role that each of these stakeholders has to play to stop slavery. The event attracted over 200 participants from around the world, with spotlight sessions on: banking solutions that support collaboration and following the money, access to justice and the need for change, increasing slavery regulations, innovations in recruitment systems, supply chain risks and responses, and the role that technology and data can play in these efforts.
The United Nations University Institute in Macau was represented by Dr. Hannah Thinyane, who participated in a panel discussing the role that technology and data to combat modern slavery. In this discussion, moderated by Robert Schukai, MBE, she outlined the key findings from her ongoing research on the use of mobile phones to support the self-identification of victims of forced labor and human trafficking. Other panelists included Emily Kennedy, founder, and CEO of Marinus Analytics, who presented on her use of Artifical Intelligence to fight human trafficking; and Leanne Kemp, CEO of Everledger, who discussed the use of blockchain technology to ensure traceability of goods for accountability within supply chains.
This summit provided an opportunity to meet a wide variety of regional and international stakeholders in the fight against modern slavery, and to exchange ideas on ways that we can further collaborate in this important initiative.