2019•10•09 Macau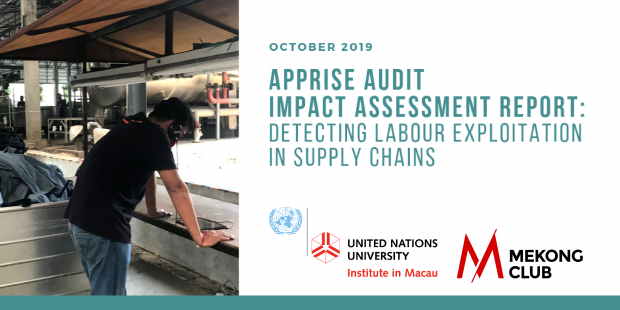 Social compliance auditing is one of the key approaches companies use to assess working conditions in their supply chains. Yet, as traditional auditing frameworks often fail to capture actual working conditions and detect forced labour indicators, there is potential for technology to improve screening practices, according to a new report by The Mekong Club and the United Nations University Institute in Macau(UNUMACAU), formerly UNU-CS, released today.
The report unveiled that the use of "Apprise Audit", a mobile solution developed by UNUMACAU and The Mekong Club helped improve the effectiveness of the overall worker interview process during social compliance audits. The mobile application offers an audio questionnaire in several languages, captures worker feedback, and offers a real-time summary to the auditor while they are performing the audit. Data is saved on the content management system and can be retained and analysed by companies to better understand working conditions in manufacturing facilities, including detecting potential forced labour indicators.
"Talking to workers is one of the most critical aspects of social audits," said Silvia Mera, Program Director at the Mekong Club, an anti-trafficking NGO that engages and educates corporations on the topic of forced labour in global supply chains. "Through Apprise Audit we aim at enhancing this important process. Our pilot demonstrated that workers, especially migrants and women, felt more comfortable sharing sensitive information through tech rather than talking to an auditor."
"Apprise Audit was purposefully developed to be used by workers to raise concerns when there is someone immediately available to address them" – explained Dr Hannah Thinyane, Principal Research Fellow at UNUMACAU, a United Nations research institute and think tank that led the research, design, and development of the app. "The app is used by an auditor but keeps the worker at the centre of the process. This way we can easily rollout Apprise in areas where workers do not have access to phones of their own."
The report offers an overview of the past 15 months of project activities: research conducted to assess the challenges that exist in current worker interview methods and the potential for technology to offer solutions, the design and development of the app, and case studies observed during fieldwork in factories. The report also includes feedback from workers and auditors who have used the app during the pilot and shows that Apprise Audit helps enhance workers' voice, improve auditors' work and facilitate data collection and analysis on working conditions in global supply chains.
The Apprise Audit project is a partnership and close collaboration among The Mekong Club,  UNUMACAU, and brands working in global supply chains to end modern slavery and support the achievement of the sustainable development goals, particularly goals 8 and 17.
The report, "Apprise Audit Impact Assessment: Detect Labour Exploitation in Supply Chains," is available here: full report
###
For media enquiries, please contact:
Mekong Club: Silvia Mera, Program Director, Mekong Club, at silvia.mera@themekongclub.org
UNUMACAU: Tarinee Youkhaw, Communications Manager, UNUMACAU at youkhaw@unu.edu
About The Mekong Club
The Mekong Club is an anti-slavery non-profit with a focus on business engagement. The vision of the Mekong Club is to harness the power of the private sector to change business practice in a way that will significantly reduce modern slavery, and to act as a catalyst for change, engaging and inspiring corporations to lead in the fight against this global crime. The Mekong Club works with companies from several sectors through a business association model and has delivered several tools to support anti-slavery efforts across global supply chains.
About United Nations University Institute in Macau
The United Nations University Institute in Macau(UNUMACAU) is a research institute at the intersections of information and communication technology (ICT) and international development. The Institute conducts UN policy-relevant research and generates solutions, addressing key issues expressed in the UN 2030 Agenda for Sustainable Development through high-impact innovations and frontier technologies. Through its research, UNU Institute in Macau encourages data-driven and evidence-based actions and policies to achieve the Sustainable Development Goals.