2020•07•30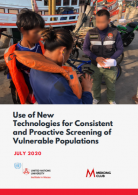 New technologies have the potential to address pressing global issues such as human trafficking and forced labour when designed using a human-centred design approach. This is highlighted in a new report by the United Nations University Institute in Macau(UNU Macau) and The Mekong Club, released on the World Day Against Trafficking in Persons on 30 July, drawing insights from three years of research, fieldwork and the development and deployment of their mobile solution Apprise. Apprise is a smartphone app which allows for secure and confidential interviews of vulnerable populations to be conducted via a headset, in the interviewees' own language, to identify possible human trafficking red flags.
Over 40.3 million people worldwide are victims of human trafficking yet less than 1% are being successfully identified which shows that current victim identification practices are failing. Key challenges that front-line responders face are communication barriers, inadequate training as well as trust and privacy issues. The report sheds light on the power of technology in supporting frontline responders to overcome these problems and more efficiently identify workers in vulnerable situations, an important step in the fight against human trafficking crimes and labour exploitation.
"After consulting with stakeholders from multiple sectors and embracing a human-centred design approach, we developed a mobile solution called Apprise which has proven to tackle the existing issues in victim identification across different industries, including fishing, manufacturing, and sex work," explained Dr Hannah Thinyane, Principal Research Fellow at UNU Macau, a United Nations research institute and think tank that led the research, design, and development of the app. "Although new technologies like Apprise have enormous potential to solve global issues and achieve the Sustainable Development Goals, we must consider potential risks and ethical issues when deploying such tools," Dr Thinyane added.

"Apprise has been an integral tool in our fight against modern slavery, in collaboration with brands around the world. The use of the mobile solution allowed real-time collection of data and mapping of hidden populations who are exploited, contributing to enhanced victim identification processes, and giving workers in supply chains a voice," said Phoebe Ewen, Programme Director at the Mekong Club, an anti-trafficking NGO that engages and educates corporations on the topic of forced labour in global supply chains.
Apprise can be used in many different industries to identify people who may need help. This report outlines some real case examples of Apprise being used to better equip responders to identify possible human trafficking victims. Fishing is a high-risk industry for human trafficking, and often inspectors have to rely on unofficial translators to gather the information they need. As a fishing inspector in Thailand explains "the results of the interviews collected from Apprise will help to see patterns of issues or risk in each boat or employer" through questionnaires developed for the fishing sector.
Apprise is also used by frontline NGOs to help identify sex workers who may need support. Within one year of piloting Apprise with languages such as Burmese, English, Khmer, Lao, Lisu, Lahu, Mon, Shan Thai and Vietnamese, we were asked to add support for the following languages for the sex work sector: French, Kiswahili, Russian, and Uzbek. Usually, there are often no translators available for these languages, with one NGO noting that "inevitably something will get lost in communication along the way". Screening tools such as Apprise can aim to bridge this communication divide, to enable workers to signal for help if they choose.
Apprise allows responders to speak to workers who had never been interviewed before. During a social audit in a 200-worker factory in Thailand, the vast majority of the workers selected for the in-person interviews had never been interviewed before. For example, a 40 something-year-old female Thai worker had been working for over 20 years without ever talking about her working conditions. The worker had been working for 10 years in the current factory and previously had worked for 10 years in another factory. She was nervous as this was the first time she had ever been asked to speak to an auditor, but the Apprise app allowed her to report comfortably and in her own language.  In some cases, the app has uncovered issues such as forced pregnancy testing, that otherwise workers would never have the chance to report.
The report also provides recommendations to policymakers, businesses, researchers and front-line responders highlighting three key areas of action:
Consider the benefits and risks of technologies
It is undeniable that technology can address data gaps in human trafficking and labour exploitation. At the same time, it is important to be cautious of the potential misuse of technology, particularly the unethical use of data regarding vulnerable populations.
Embrace a human-centred design approach in policymaking and technology design
It is important to take into account the key barriers to effective victim identification such as communication, training, trust and privacy in policymaking and technology solution design.
Improve data collection and analysis
Improved data collection and analysis mechanisms can help stakeholders better understand the dynamics of migration, at-risk populations, and sector-specific practices of exploitation as well as map vulnerabilities within their target populations and build on evidence to raise awareness in their communities.
The report, "Use of New Technologies for Consistent and Proactive Screening of Vulnerable Populations," is available here: https://bit.ly/338WjQL
###
For media enquiries, please contact:

UNU Macau: Tarinee Youkhaw, Communications Manager, UNU Macau at youkhaw@unu.edu
The Mekong Club: Phoebe Ewen, Programme Director, The Mekong Club at phoebe.ewen@themekongclub.org

About United Nations University Institute in Macau
The United Nations University Institute in Macau is a research institute at the intersections of information and communication technology (ICT) and international development. UNU Macau conducts UN policy-relevant research and generates solutions, addressing key issues expressed in the UN 2030 Agenda for Sustainable Development through high-impact innovations and frontier technologies.
About The Mekong Club
The Mekong Club is an anti-slavery non-profit with a focus on business engagement. The vision of the Mekong Club is to harness the power of the private sector to change business practice in a way that will significantly reduce modern slavery, and to act as a catalyst for change, engaging and inspiring corporations to lead in the fight against this global crime. The Mekong Club works with companies from several sectors through a business association model and has delivered several tools to support anti-slavery efforts across global supply chains.