2017•01•04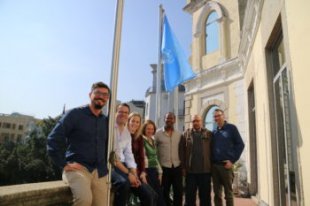 Urs Gasser, Executive Director of the Berkman Klein Center for Internet & Society, and Sandra Cortesi, Fellow and Director of Youth and Media at Berkman, visited the United Nations University Institute in Macau on Wednesday, 4 January, 2017 . The Berkman Klein Center for Internet & Society at Harvard University focuses on studying and understanding the dynamics, opportunities and challenges of cyberspace. Although initially founded at Harvard Law School, the center is now a university-wide interdisciplinary research program with global reach and impact.
Urs Gasser and Sandra Cortesi had a number of meetings with the UNU Institute in Macau Director, Michael Best (a former Berkman Klein Fellow), where they discussed opportunities for cooperation and collaboration. They also met with the UNU Institute in Macau research team and exchanged information about research projects and shared ideas and experiences in the development of new centers such as UNU Institute in Macau. In addition, the group discussed opportunities to further our shared networks of computing and society centers, both regionally and globally. The Berkman Klein Center has been instrumental in incubating communities of internet and society researchers including the Network of Centers (an international network of internet and society institutions) and the Digital Asia Hub (a Hong Kong based network). UNU Institute in Macau is a member of both organizations.
UNU Institute in Macau has hosted Berkman Center fellows in the past, and further collaboration among the two institutions is expected.