2023•02•21 Macau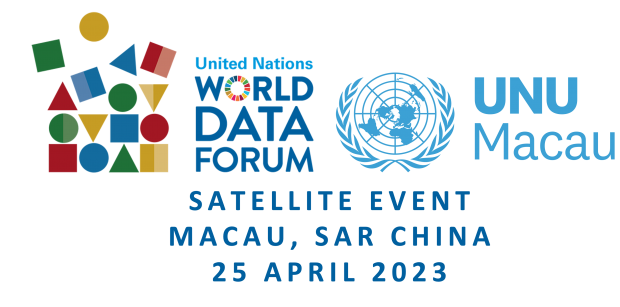 Overview
The United Nations World Data Forum will be hosted from 24 ‐ 27 April 2023 in Hanghzou, China. The Forum will feature more than 100 events, 70 parallel sessions, 30 learning labs, exhibits and much more.
UNU Macau is honored to host the satellite event setting date on 25 April 2023, with the theme of "Dealing with Data Dilemmas". This is a full-day workshop being held in Macau (SAR), China.  This event aims to discuss data dilemmas across a variety of themes and reflect on whether taking a human-centered systems approach can help solve these. This topic is specifically aligned to the main themes of the World Data Forum; "Building trust and ethics in data" and "Emerging trends and partnerships to develop the data ecosystem."
Background
Conflicts between preventing harm and promoting health and human security using data and digital technologies have resulted in many data and digital technology dilemmas that span diverse topics and fields of work. For instance, data can be used in exploitative ways to identify and change opinions or manipulated for personal or political gain. This can result in misinformation and disinformation that reinforces false facts. Also, many people are suffering from adverse mental and physical health impacts resulting from digitally connected tools that collect and use data and advances in AI are threatening human freedom and augmenting these trends.
On the other hand, data and digital technology development create new opportunities for people's voices to be heard. Participatory modelling facilitated by digital technologies has the potential to be more inclusive, strengthen democratic decision-making processes (enabling citizen science), facilitate deliberations, and create opportunities for better governance by taking a systems approach and building collective intelligence. That is part of the vision of the UNU Institute in Macau. However, to put data and digital technologies to the best use for people and the environment, a range of dilemmas need to be identified and overcome. Digital technology development needs to be directed towards outcomes that are good for all, which requires attention to be focused on institutions and regulative frameworks.
We are calling for contributions that take a human-centered systems approach towards sustainable data and digital technology development. It is an attempt to address those dilemmas for the good of humans from an interconnected and integrated social, economic and environmental perspective.
Outline of the event
Morning sessions
Opening and welcome
Poster exhibition

Start-ups and networking

Keynote
Introduction of parallel sessions (plenary)
Parallel sessions as roundtable with discussants
Afternoon sessions
Introduction of parallel sessions (plenary)
Poster exhibition

Start-ups and networking

Parallel sessions as roundtable with discussants
Presentation of results and discussion (plenary)
Date
April 25
Registration
No registration fees.
Please register online, in person on site, and express your interest to participate by mail (see below).
Online registration possible soon.
Theme of the event
Dealing with Data Dilemmas – A human-centered systems approach to dealing with data dilemmas for sustainable data and digital technology development.
Current sub-themes of parallel sessions – open for additional themes
Data and Health: Cyberpsychological Implications
Regulatory Dilemmas and Digital Technologies
Digital Identity, AI and the Common Good
Data and Gender
Datafied Macau:  Seeing the City with Algorithms
Data, digital technologies and human-centered design for decision making
Building trust by computational collective intelligence
Data policy for addressing data dilemmas in crisis situations: Preparing for Digital Sustainability in Science
We are calling for contributions in the following categories: 
Regular participants
Registrations will be open and can be completed through our website [LINK will be available soon] or in person at the event. Please be in contact in case you are interested to participate in this event, by sending a mail to: franz@unu.edu
Parallel Sessions 
These are 1-hour events are happening in parallel to other 1-hour parallel events. They can be organized as roundtables or panel discussions. As organizer of these events, you will identify a theme in your field of expertise which is relevant to the overall topic of the event (see background) and identify additional speakers or discussants.
Session organisers will present the outcomes of their parallel session in a moderated panel discussion at the end of the meeting. Interested contributors please send a short proposal consisting of:
Proposed topic and short description (max. 100 words)
Suggested organizer/speaker + short bio
Suggested format of the 1-hour event
Discussants
As a discussant you contribute as part of a panel of experts to one of the themes (see list of themes below) of the event. Each theme will be run as a parallel session that by a short presentation or contribute to the discussion. We are looking specifically for discussants with diverse expertise which is relevant to the session topic (e.g., Academia, Government, NGO, private sector). You will be expected to prepare a short talk or presentation and to address a series of structured questions presented by the moderator in advance of the session. Interested contributors please submit:
Your expression of interest to contribute to one of the parallel sessions as discussant (max 100 words)
Short bio
Posters
Poster submissions should relate to the themes of the event. Selected posters will be exhibited in an exhibition area throughout the event. Poster presenters can present their posters and interact with participants during the health breaks. Poster proposal submissions should contain:
Proposed topic and short description (max. 100 words)
Suggested organizer/speaker + CV
Exhibition/Start-up
If you are a start-up or company and want to exhibit your work and network with other start-ups and companies and if your work is relevant to the topic of our event (background), please contact us with the subject "UNWDF-Macau event".
Deadline for submissions (except regular participants)
April 7
Contact: 
Please kindly send your files to: franz@unu.edu
When sending an e-mail, please use "UNWDF-Macau event" in the subject line, to avoid your mail getting lost.