2017•10•08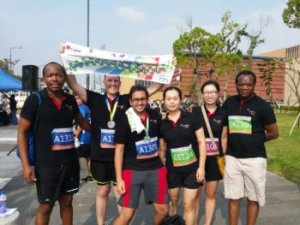 A UNU Institute in Macau team participated in the Charity Run organized by Caritas Macau on 8th October 2017. The event was held to encourage more people to participate in the sport of running. It also aimed to facilitate the integration of people with disabilities in the society and to promote parent-child harmony. All the donations raised from this event went directly to Caritas Macau for philanthropic causes and new social service development.
The run had five different categories including open category runs of 6.6km and 3.3km and family, rehabilitation and exercise category walks of 1.6km. UNU Institute in Macau participated in the long run as well as the exercise category walk.
UNU Institute in Macau partners with Caritas Macau on research that explores the use of technology to support developmental goals of the Caritas service clients. The participation in this event furthers the institute's local outreach and engagement in Macau.