2017•02•22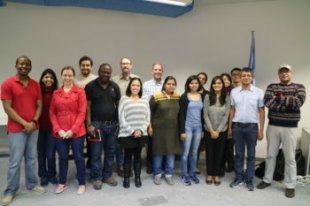 On 22 February, members of the Centre for Internet & Society (CIS) in Bangalore, India, visited the United Nations University Institute in Macau to share information on projects and activities, and to analyze possible synergies. CIS is a non-profit organization that undertakes interdisciplinary research on internet and digital technologies from policy and academic perspectives. The team was led by its Executive Director, Sunil Abraham, and had experts in law, policy, and gender.
CIS is working on projects which target every layer of mobile device usage: from access to devices, access to knowledge, accessibility issues for visually impaired users, telecommunications, to internet governance. The team's expertise and capacity in policy could be a good complement to UNU Institute in Macau research projects, and many points of intersection for collaboration were identified, and channels were established to enable further collaboration.
The CIS team has also presented their work on the Pervasive Technologies project – a project seeking to understand the hardware, software and content of sub $100 mobile phones from the perspective of copyright, patent, intermediary liability and competition law – during the soft launch of the new series of networking events co-organized by UNU Institute in Macau and Digital Asia Hub.