2017•07•18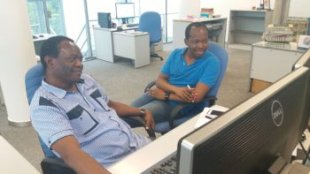 Dr. Matthew Adigun has recently joined the United Nations University Institute in Macau as a visiting research fellow. Matthew is Professor of Computer Science at the University of Zululand (South Africa) with vast experience in the areas of Software Engineering and Telecommunications, and is currently leading the Telkom Centre of Excellence in Mobile e-Services for Development. The center's main areas of research are wireless mesh networks, security of distributed and networked systems, and context-awareness and personalization of cloud-based systems.
During his time at UNU Institute in Macau, Matthew will be working with the researchers of the Small Data Lab, where he will investigate the applicability of Cloudlets for Small Data sensing technology. His research aims at exploring two lines of inquiry: what sort of Cloudlet metaphors and techniques can be incorporated into the Small Data for Development interventions, and what are the requirements for building shared information repositories for mission-specific Small Data applications?
Matthew first visited the UNU in Macau in 2004 as a visiting researcher – we are excited to be hosting him on his second visit, for his sabbatical, and look forward to a productive research engagement and collaboration.
Scholars interested in short-term visiting positions within the themes of UNU Institute in Macau research Labs are welcome to visit the Join page to read more about our Visiting Fellows program.