2017•11•24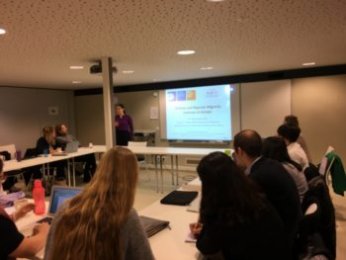 The United Nations University – Maastricht Economic and Social Research Institute on Innovation and Technology (UNU-MERIT) hosted the annual conference of the United Nations University (UNU) Migration Network from 21-22 November in Maastricht, The Netherlands.
On 21st, the conference focused on collaborative research brainstorming for migration and health topics, as well as hosting the coordination meeting of the migration network. Ms. Jenny Ju, Senior Research Assistant at United Nations University Institute in Macau presented the work undertaken at the Institute on behalf of the Migrant Tech Research Group.
Jenny also attended the Migration Days Conference hosted by UNU-MERIT from 23-24 November to explore a variety of migration studies, ranging from diasporas' mobilization, highly-skilled migration, to perceived legitimacy of immigration detention. This conference has brought together migration researchers from institutes of UNU worldwide and provided a valuable opportunity for them to share ideas and build professional network.