2016•08•21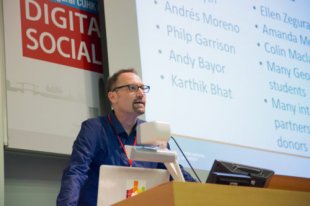 On Sunday, 21 August, 2016, Prof. Michael Best, Director of the United Nations University Institute in Macau, delivered a public talk during the Digital Methods & Social Development Summit, which was organized by the Centre for Chinese Media & Comparative Communication Research from the School of Journalism and Communication of The Chinese University of Hong Kong (CUHK). This public event marked the opening of the inaugural CUHK Research Summit which will be held from 21-27 August, 2016, and which also consists of a six-day training program for advanced PhD students and early career researchers.
Best's talk was titled Digital Methods and Democratic Development: Acquiring and Acting on User Generated Content During National Elections. According to Best, digital content, especially over social media platforms, has altered how some communities engage in political and social communication and action. With his team in Georgia Tech in Atlanta, US, and UNU Institute in Macau in Macao, he created a tool that facilitates the aggregation of user generated content across multiple media types, together with specific processes for the evaluation and analysis of this content, and systems for real-time response. This process and tools, named Aggie, has been deployed during times of social and political action, especially national elections, in African and Latin American countries. During his talk, Best reviewed the Aggie platform and methods and described an analysis (with Amanda Meng) of Twitter discourse during three African national elections, where tweets were coded for their degree of rich policy relevant debate versus identity driven communications focused on religion, tribe and regional difference. The findings suggested that social media discussions may echo the democratic intensity found in a country with deeper democracies favoring policy relevant discussions. The video of Prof. Best talk is available here.
The activities of the day concluded with a panel discussion about the past, present and future of digital media & social development, in which Michael Best took part, along with Prof. Wenhong Chen (Assistant Professor, Department of Radio-TV-Film, University of Texas at Austin), Dr. Melissa Gregg (Principal Engineer, Client Computing Group, Intel Corporation), Mr. Isaac Mao (Director, Social Brain Foundation; Co-Founder, Berry Labs), and Prof. Richard Rogers (Professor of New Media and Digital Culture, University of Amsterdam). The video of the panel discussion is available here.