2017•09•14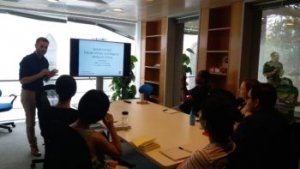 On Thursday, 14 September 2017, Tom McDonald – Assistant Professor in the Department of Sociology at The University of Hong Kong visited the United Nations University Institute in Macau to present his research and discuss mutual interests with the UNU Institute in Macau researchers. McDonald's current research is focused on the linkages between money and social relations in the digital era, and explores the role of "digital money" services within social media platforms in Chinese migrant workers' daily lives.
During the talk entitled "Social money? Digital money and migrant labor in China", McDonald presented an analysis and theoretical discussion of digital money services related to social media platforms (WeChat Wallet, QQ Wallet, and Alipay), based on his fieldwork in the city of Shenzhen, China. Drawing on classic theoretical discussions about money (e.g. Emily Martin's "The Meaning of Money in China and the United States"), the talk gave a brief overview of the assumed social character of money in China in the previous literature, and then discussed the impact of the rise of digital money services within social media platforms on Chinese migrant workers, who are technologically literate yet financially precarious. The talk also covered how the digital money services designed to enable transactions, savings and investment have been utilized, felt and even abandoned by Chinese migrant workers in their everyday lives.
The talk was followed by a dynamic round of questions and discussions with the UNU Institute in Macau researchers. The visit also allowed for opportunities to have one-on-one meetings with some researchers to explore possible research collaboration opportunities.