2017•12•06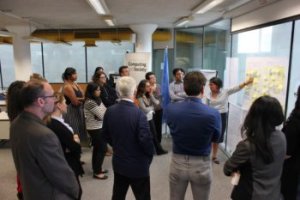 From 5-6 December, the United Nations University Institute in Macau hosted the first physical meeting of the EQUALS Research Group. EQUALS is a growing global partnership of more than 50 companies, international organizations, nonprofits, academia and governments working to bridge gender digital divides. EQUALS is comprised of three coalitions focusing on gender gaps in digital access, skills and leadership; and the crosscutting research group aiming to generate and disseminate knowledge around these three action areas. Members of the research group bring expertise from diverse fields including gender and development studies, technology and society, communications, information science, computer science, law and business.
The important work of the EQUALS Research Group is facilitated by UNU Institute in Macau, one of the five founding partners of EQUALS. The other founding partners are the ITU, UN Women, GMSA and the International Trade Centre. Principal Research Fellow Dr. Araba Sey leads this project under the UNU Institute in Macau gender tech lab.
This week's gathering was the first physical meeting of the research group and brought together researchers and policymakers from 21 organizations around the world. The meeting was used to set the group's research agenda, draft its work plan for 2018, and finalize the content and schedule of its inaugural report due to be published in mid-2018. The press release for the event is available here.