2017•03•15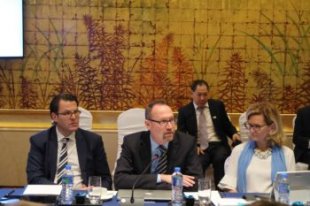 EQUALS: the Global Partnership for Gender Equality in the Digital Age officially launched its Research Group in Hong Kong on 15 March, 2017, during a meeting of the Working Group on the Digital Gender Divide of Broadband Commission for Sustainable Development. EQUALS is an initiative launched by the International Telecommunication Union (ITU) and UN Women in September 2016, and the research function – which aims at ensuring an evidence-based approach to achieve the partnership goals – is led by the United Nations University Institute in Macau. The formal launch included remarks by Doreen Bogdan-Martin (ITU), Anna Karin Jatfors (UN Women), Michael Best (UNU Institute in Macau), and Urs Gasser (Berkman Klein Center for Internet and Society, Harvard University).
As part of the launching event, UNU Institute in Macau hosted a cocktail reception at the Kowloon Shangri-La hotel in Hong Kong. The event, which included remarks from Houlin Zhao, Secretary-General of ITU, provided a unique opportunity for networking among current and potential research partners.
The focal point of the Research Group is UNU Institute in Macau Principal Research Fellow Araba Sey, and participation is open to academic and private sector institutions, as well as to civil society and government organizations.