2017•07•28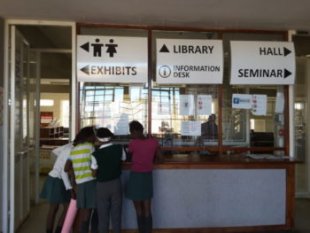 UNU Institute in Macau Principal Research Scientist, Araba Sey, spent two weeks in Namibia from July 16 to 28, collecting data for a performance evaluation of three Regional Study and Resource Centers (RSRCs) in Namibia. During this period of fieldwork, Araba carried out in-depth interviews with a variety of key informants. She also visited and conducted observations at each of the three RSRCs in Gobabis in the Omaheke region; Oshakati in the Oshana region, and Helao Nafidi in the Ohangwena region.
The evaluation project, sponsored by the Millennium Challenge Corporation and implemented by the Technology & Social Change Group at the University of Washington, Seattle, seeks to determine the extent to which the three pilot RSRCs are providing the intended services to the public, how the venues are being used, and what types of outcomes (if any) are beginning to occur.
Araba is currently a senior advisor on the project, supporting the team with guidance on research design and data analysis, and helping with qualitative data collection.