2017•10•11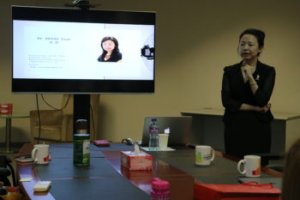 On Wednesday, 11 October 2017, Dr. Noah Zhang, an assistant professor at the China Women's University in Beijing visited the United Nations University Institute in Macau to give a talk on the development of Chinese gender studies. Dr. Zhang holds a Ph.D. in Philosophy in Communication from the University of Macau and has multidisciplinary graduate degrees from universities in China and the Netherlands. She is the coordinator of the international MA program at the China Women's University's School of International Education and has extensive experience in teaching, research and curriculum development.
In her presentation entitled "Gender Studies in Contemporary Chinese Contexts," Dr. Zhang traced the history of three fields of scholarship – sexuality studies, gender studies and women's studies – and stressed the need for Chinese educational institutions to develop academic programs at the intersection of these fields. She also argued that as an academic discipline, gender studies emerged from western history and is largely researched from western perspectives leading to two challenges for Chinese scholars: 1) how to use western theories to do research on local phenomena and 2) how to establish an equal dialog with western theories. Likening the influx of international forms of knowledge to "crushing waves" and their incorporation into Chinese scholarship to a "still pond," Dr. Zhang further argued that Chinese gender studies draws on western perspectives but does not appropriately adapt them to the Chinese context. She suggested that Chinese scholars could look to local history (such as the emergence of some forms of institutionalized gender equality before the Cultural Revolution) and culture (such as Taoism) for inspiration to develop more localized gender studies frameworks. At the same time, she noted the value of engaging with scholarship from different contexts in the interest of productive cultural exchange.
The Gender Tech Lab at UNU Institute in Macau explores the gendered dimensions of the digital age in different societies and seeks new impactful ways to use data, theory, and practice to promote gender equality and women's empowerment. UNU Institute in Macau is also the leader of the research group of EQUALS, the global partnership formed between ITU and UN Women to promote gender equality in ICT access, skills and leadership.