2016•12•19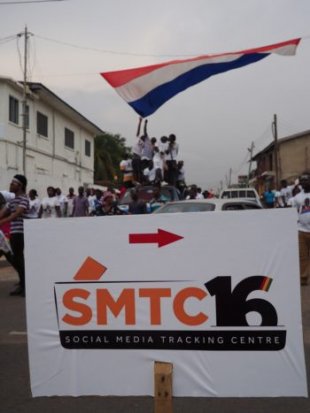 In cooperation with Penplusbytes and GeorgiaTech, UNU Institute in Macau researchers have taken part in the Social Media Tracking Center (SMTC) organized for the 2016 Ghanaian elections. The SMTC has monitored messages from Twitter, WhatsApp, and posts and comments from relevant Facebook pages and groups in Ghana.
A team of volunteers used Aggie, software currently being developed at the United Nations University Institute in Macau, to concurrently filter and review 220,000 tweets and other reports that were collected during the three days the center was operational. From those reports, 183 unique incidents were created. To verify and escalate the incidents, the SMTC partnered with the Ghanaian Electoral Commission, the National Election Security Task Force, and the Coalition of Domestic Electoral Observers. In particular, the Coalition of Domestic Observers had a team of 8,000 monitors on the ground that was used for verification.
The work done by the SMTC helped to stop the propagation of fake news in social media and WhatsApp and, together with the Electoral Commission, to correct logistical problems at polling stations. A map and a live-blog were updated as new incidents were created.
For almost one year researchers at UNU Institute in Macau have been developing Aggie further to facilitate the live monitoring of different media during critical events. The tool can be downloaded from getaggie.org and installed using Docker. Aggie can tap into Facebook, Twitter, Whatsapp, SMS, ELMO and RSS sources for reports. The diversity of potential sources to monitor enable crossmedia methods to find and verify incidents from the sources. After these elections, UNU Institute in Macau researchers will analyse the usage of Aggie by the volunteers and by the ecosystem around the SMTC, focusing on the role different media has had to communicate potential incidents and fake news.