2016•07•29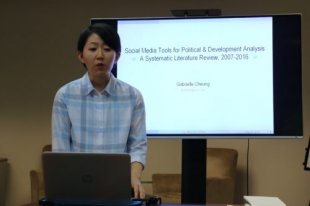 Gabrielle Cheung, currently a research assistant at HKU, visited the United Nations University Institute in Macau on Friday 29th July to present her report on social media tools to the UNU Institute in Macau team, see the slides.
She has been helping UNU Institute in Macau to understand the use of social media in four areas:
Elections

Political Mobilization & Regime Transition

Disaster Response & Management

Disease Surveillance
Her report is a systematic literature review that has covered 207 papers from 16 selected ICT4D journals and a number of other journals and conferences. To catch with current developments, it also contains an analysis of news treatment of social media in the same areas.
Her analysis reveals the strong focus of Twitter as an object of research, and warns of the problems of generalizing based on a decaying platform. When it comes to elections, she finds troublesome the fact that social media users are usually conferred different statuses that may not hold in reality. In particular, users are often equated with voters, which may not be true because of the lack of intent or geographical location, or just because they are bots.
Gabrielle's work is supporting the current UNU Institute in Macau efforts around social media election monitoring with Aggie. She will be joining USC this autumn to pursue her PhD on Political Science.