2017•04•28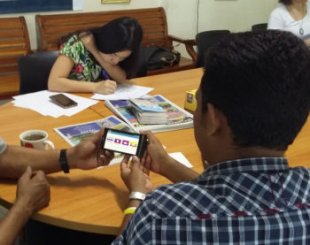 From 23rd-28th April, Hannah Thinyane, Principal Research Fellow at the United Nations University Institute in Macau, and Silvia Mera, Program Associate at Mekong Club, undertook a research trip to Thailand to understand how NGOs and front line responders are currently identifying victims of human trafficking. As part of this study, Hannah and Silvia undertook 5 focus groups with key human trafficking stakeholders in Bangkok, Samut Sakhon, Mae Sot, and Surat Thani. Participants included inter-governmental organizations, regional and local NGOs, migrant workers, and government officials. This broad range of participants allowed the researchers to obtain a broad understanding of the current process of identification, as well as perceived areas that could be improved.
After understanding how participants currently use technology, Hannah and Silvia proposed the use of mobile phones to allow NGOs to bridge communication divides between themselves and foreign migrant workers. This proposal was received well, and has resulted in a number of NGOs requesting to participate in a pilot technology intervention later in the year.
This activity is part of the Migrant Tech project, which focuses on understanding the use of ICTs by low skilled and semi skilled workers to enhance their situated agency.