2017•05•17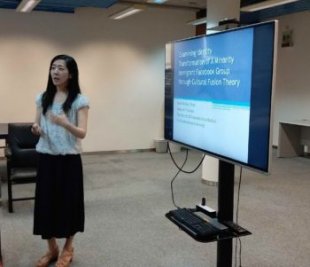 Hsin-I Sydney Yueh and Todd Sandel visited the United Nations University Institute in Macau on Wednesday, 17 May 2017, and delivered interesting talks about their research. Dr. Yueh is an Assistant Professor of Communication Studies at Northeastern State University (USA) and her research is centered on intercultural communication, gender and language, ethnography of communication and East Asian popular culture. Dr. Sandel is an Associate Professor of Communications at the University of Macau and his research focuses on the perceptions of and intercultural communication of cross-border marriages in Taiwan and Greater China, as well as on the impacts of social media use on students engaged in international study abroad programs.
Dr. Yueh's talk "We Are Taiwanese American Women," described an ongoing research project where she is examining the identity transformation of a minority immigrant Facebook group, using cultural fusion theory. This research aims to understand what the fused intercultural identity would look like, an aspect that is not fully explored yet, by a case study of a closed Facebook group of naturalized Taiwanese female immigrants. Some findings include that Taiwanese female immigrants' American identity is ambiguous because users reveal complicated identity management in defining their Taiwanese, American, Taiwanese American, or Asian American identities at the same time. The result shows the relevance and the applicability of cultural fusion theory in understanding immigrants' identity transformation experience.
Dr. Sandel's talk was entitled "Addressing, Re-Accenting, and Othering Utterances on WeChat: a Bakhtinian Analysis," and summarized a study on how young people in the Pearl River Delta of Macau and Zhuhai construct and communicate such messages on social media by analyzing messages in a variety of systems, including text, emoji, gif files, pictures, and audio messages. In particular, the study uses Bakhtin's concept of "speech genres" in order to analyze and explain how users construct, interpret, and address their messages, and considers implications of these messages on identity and relationship construction among China's youth.