2017•05•24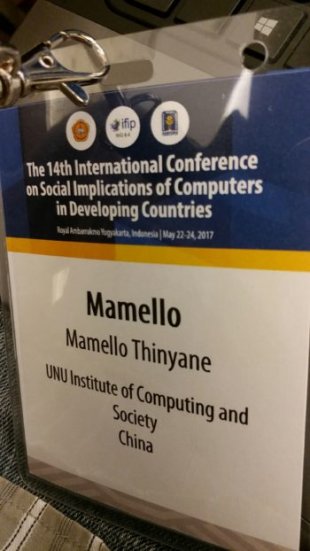 Mamello Thinyane, a researcher at the United Nations University Institute in Macau within the Small Data and SDGs project, attended the 14th International Conference on Social Implications of Computers in Developing Countries (IFIP WG 9.4 2017 conference) which was held in the beautiful city of Yogyakarta – Indonesia on 22-24 May 2017. This conference attracts ICT4D researchers and practitioners from around the world and addresses how Information and Communication Technologies affect and intersect with social development in developing countries.
Mamello presented a paper, within the Data Revolution and Sustainable Development Goals track, titled "A critical and systemic consideration of data revolution for sustainable development in Africa." The paper was co-authored with Ms. Nyalleng Moorosi and Dr. Vukosi Marivate from the MDS unit of the CSIR and represents an early output from the collaborative engagement between UNU Institute in Macau and the MDS unit.
Beyond the presentation, the conference provided a great opportunity for Mamello to informally introduce the work of UNU Institute in Macau within the Small Data Lab and also for networking with other researchers within the Data for Development field.