2017•09•26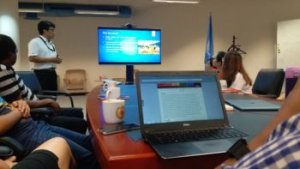 On September 26, Dorji Wangchuk, former Director of the Royal Office for Media of Bhutan, visited the United Nations University Institute in Macau to share and discuss his research with the UNU Institute in Macau research team. Dorji is currently pursuing a Ph.D. in Communication at the University of Macau where his work focuses on social media, news and storytelling traditions in Bhutan, and the search for a middle path.
In his talk "Influence of Buddhism in Communication Culture in Bhutan", Dorji presented how the core philosophies of Buddhism influenced the communication behaviors among the Bhutanese. His research is based on interactions and in-depth interviews with Buddhist scholars and communication practitioners. He described the unique socio-cultural context and geopolitical circumstances of Bhutan that entail the need for alternative media and communication models. His talk also argued that unlike traditional media, social media platforms are increasingly becoming an extension of the traditional oral forms of communication.
The talk was followed by a discussion with UNU Institute in Macau researchers on a variety of topics ranging from new media versus cultural preservation, openness versus existing closed-knit communities, and on the relevance, practicality, and challenges of new communication perspectives.