2017•02•21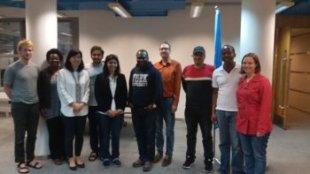 On Tuesday 21 February, researchers from the Information Technology University (ITU) in Lahore, Pakistan, and from the United Nations University Institute in Macau discussed collaboration for empowering peace builders in conflict zones with innovative digital technologies. The ITU is a fairly new university in Pakistan, focused on the use of innovative applied research to solve the pressing problems faced by Pakistan today.
Michael Best and Samiullah Paracha from UNU Institute in Macau met with ITU Lahore experts and explored collaborations to drive positive changes through innovative technologies in conflict zones. A tangible outcome of these meetings was an agreement to organize a workshop on Digital Peace in Lahore, later in 2017. The workshop will aim to bring together stakeholders from academia, non-profit organizations, UN Peacekeepers, ICT4Peace experts and local innovators in the conflict zones. The meetings also provided a good space to discuss logistics and management issues concerning the 9th International Conference on Information and Communication Technologies and Development (ICTD2017) that will be held in Lahore, in November 2017.
As part of the collaborative activities, Amna Batool – researcher at the Innovations for Poverty Alleviation Lab of ITU – gave an overview of the university and shared information about their main projects with the UNU Institute in Macau research team.