2016•11•17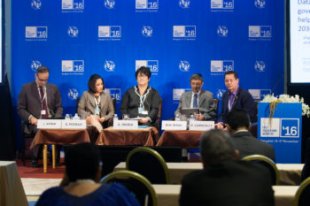 ITU Telecom World is a non-profit neutral platform organized by the International Telecommunications Union, as a way to help accelerate ICT innovation for social and economic development through exhibiting solutions, sharing knowledge and networking. This year, the event was held at IMPACT Convention Centre in Bangkok from 14 to 17 of November 2016, supported actively by the Government of Thailand.
In parallel to the official program, this year, the event had multiple private sessions, co-hosted events, and ITU's Academic conference, Kaleidoscope. Together with ITU and UN Women, the United Nations University Institute in Macau held the first physical meeting of EQUALS, which aims to create a Global Partnership to support digital gender equality (SDG5.b). Also, UNU Institute in Macau, represented by Sammia Poveda, was invited to be keynote in two sessions: "Data, Talent and e-governance: How ICTs will help achieve the SDGs by 2030" and "World Standards Cooperation Academic Roundtable".
UNU Institute in Macau's active participation at this international event is evidence of the Institute's growth and increasing presence in the international development field.