2017•07•06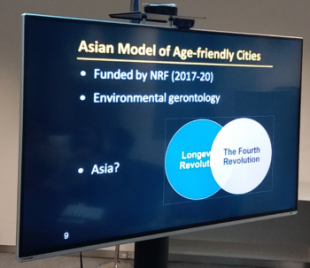 A lively seminar of ongoing research projects by Moon Choi and two of her students from the Korean Advanced Institute of Science and Technology (KAIST) took place on July 6, 2017. Organized and chaired by Araba Sey from the United Nations University Institute in Macau, the objective was to familiarize UNU Institute in Macau researchers with the visitors' and other colleagues' work.
During the first part of the seminar, Moon Choi highlighted the latest achievements of the Aging and Technology Policy Lab at the Graduate School of Science and Technology Policy, including preliminary results from the Intergenerational Home Share Program – a National Research Foundation project using the Asian Model of Age-friendly Cities as a framework. She also shared updates on the progress of planning for a collaborative research project with the Gender Tech Lab at UNU Institute in Macau. There were also presentations by KAIST students Jung-Min Woo on sexual violence prevention on university campuses with high male population, and Sung-Jae Hong on the use of e-government services by older adults in South Korea. Both analyzed the current situation and needs of specific vulnerable populations and offered tailored policy recommendations. All three presentations triggered stimulating discussions with UNU Institute in Macau researchers, several of whom raised relevant cases for the presenters' further review, or suggestions for later improvements.
With the purpose of information sharing and exploring collaborations, the second part of the seminar saw UNU Institute in Macau researchers presenting some of their work at the Institute. Araba Sey outlined a performance evaluation process that is assessing whether a Regional Study and Resource Center program in Namibia has been effective in providing educational and livelihood resources to local communities. Hannah Thinyane talked about her studies on anti-human trafficking and her latest research trips to Thailand. Lauri Goldkind, a visiting fellow from Fordham University, shared her work on the uses of technology to monitor and improve community wellbeing; and Samiullah Paracha introduced the progress on the Digital Peacekeeping project. Vikram Kamath Cannanure,  a visiting research student, also gave an overview of ongoing work in the UNU Institute in Macau Small Data Lab, while visiting research assistant Yuchao Zhao described her dissertation research on the use of hookup apps by Chinese migrants.
The seminar concluded with discussions to foster and profound the interdisciplinary cooperation between UNU Institute in Macau and KAIST.