2017•04•10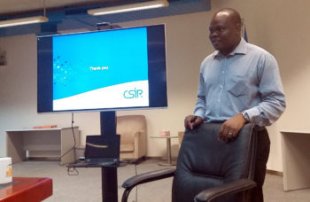 Dr. Fulufhelo Nelwamondo gave a talk on Monday 10th April on the "Application of computational intelligence in advancing economic development in the developing world" during his visit to the United Nations University Institute in Macau. In his presentation he introduced the work that his unit, the Modeling and Digital Science (MDS) group, at the Council for Scientific and Industrial Research (CSIR) is undertaking on the application of computational intelligence for addressing developmental imperatives in South Africa.
During his visit Dr. Nelwamondo had discussions with Mamello Thinyane to outline activities for collaboration and engagement between the MDS and UNU Institute in Macau in the context of the Small Data for Sustainable Development Goals project, as well as towards contributing advanced data analytics functionality to Aggie, an open-source social and online media aggregation tool, co-developed by UNU Institute in Macau, for monitoring of events in real time.
Dr. Nelwamondo's visit was the first of the planned visits between UNU Institute in Macau and the CSIR. In mid-May, Ms. Nyalleng Moorosi, a senior researcher and data scientist at MDS will visit UNU Institute in Macau for further collaborative work and to give a talk on her research.