2018•07•31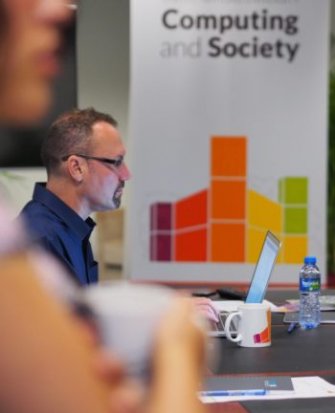 The inaugural director of United Nations University Institute in Macau, Prof. Michael L. Best, bid his farewell after leading this institute since 2015. Here's what he had to say about his experience at UNU Institute in Macau.
What is the reason for your departure and what is next for you?
I am on the faculty at the Georgia Institute of Technology in the USA. In 2015, Georgia Tech granted me a leave of absence so that I could join UNU Institute in Macau as its founding director. That leave has now come to its conclusion, and I am returning to Tech as originally scheduled. Of course, my return is bittersweet; I am going to miss the UNU Institute in Macau team, our research programs, and this wonderful opportunity to have served in the UN family. Going forward, I do hope to sustain some of my collaborations with UNU Institute in Macau colleagues, and I look forward to following the work of the Institute as it continues to grow and thrive.
How is this organization different from the one you started with in 2015?
When I showed up, UNU Institute in Macau was composed of just me and one finance person. That was the entire staff! Today the Institute has a core set of researchers, a small but robust administrative team, a dynamic program for visitors and guests, and a large external network of colleagues and partners. It certainly has grown. To be sure, there have been some bumps along the way, but overall, I am really pleased with where we are now and very optimistic about the Institute's future.
UNU Institute in Macau sits at a unique intersection between a research institution and intergovernmental organization, how did you balance these different perspectives and interests?
UNU Institute in Macau is part research laboratory and part UN policy think tank. While some other units within the UNU strike a different balance, my goal was for UNU Institute in Macau to focus about two-thirds of its energy on the research side of our work and about one-third towards policy. I think, broadly, we have hit that balance. For me, it is really exciting how our work is connecting between research and policy; this is one of the main ways that UNU Institute in Macau is different and why it was so exciting to work within the UN system.
Is there anything that you wish you could have done during your tenure at UNU Institute in Macau?
There are a million things I wish I had accomplished but simply didn't squeeze into my time at the Institute. For instance, we had plans for a public speaker series but, alas, I failed to launch this during my tenure. I expect this program will start up in early 2019. And since my arrival, we worked diligently towards breaking ground on needed renovations of our interior lab space. Finally, and thanks to the generous support of the Macau Foundation, renovations should start very soon now.
What are the things you will miss the most about UNU Institute in Macau or Macau?
Absolutely what I will miss the most will be the people. I tell everyone that the UNU Institute in Macau team is like one big family, and I truly believe that.  The community has really inspired me.
---
UNU Headquarter has a transitional arrangement in place for UNU Institute in Macau. A global search for candidates led by a committee of experts has been initiated as well. For more information, please click here.