2018•02•24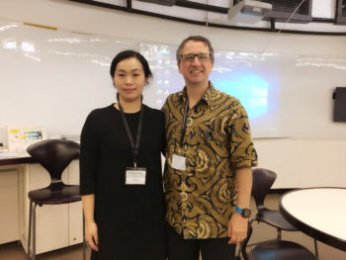 Jenny Ju represented the United Nations University Institute in Macau at the conference Migrating Concepts: Cosmopolitanism, Multiculturalism and Conviviality across the Asia Pacific, held 23-24 February at Nanyang Technological University, Singapore. Hosted by the Journal of Intercultural Studies, the conference brought together scholars and practitioners from various fields: from migrations studies, to postcolonialism, race, and ethnicity studies, to geography; all addressing how migrating concepts theoretically and empirically apply across different histories, experiences, and intellectual traditions.
Jenny presented her paper entitled "Perceived Understandings of Home, Identity and Border among Mainland Chinese Dual Migrants in Macao" during the (Trans)Nation, Identity, and Cultural Production session. The paper was co-authored with Dr. Todd Lyle Sandel from the Department of Communication of the University of Macau.
Jenny also attended the roundtable discussion "Migrating Ideas: Localized Responses to Global Policy Initiatives", which furthers her research to better understand the local dimensions of migration. The information exchange will foster the growth of an incipient activity within the Migrant Tech project at UNU Institute in Macau focusing on the use of ICTs in pre and post recruitment of foreign domestic workers.