2017•10•12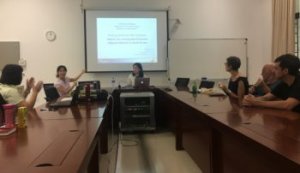 On Thursday, 12 October 2017, Juhee Kang – a Research Fellow at the United Nations University Institute in Macau – visited the Department of Communication (DCOM) at the University of Macau to present her research. Organized as part of the 3rd DCOM Research Lecture Series of the 2017 fall semester, the presentation highlighted the findings of her research on the ICT use among North Korean migrants.
In the talk entitled "Hiding behind the Screen: Mobile use among North Korean migrant women in South Korea", Juhee discussed how mobile phones play into the migratory experiences of North Korean migrant women when they shift between two Koreas, particularly undergoing the structural flip from the most digitally-oppressed society in the North to one of the most digitally-oriented societies in the South. Based on qualitative analyses of interviews with 25 North Korean migrant women and participatory observation, the research examined the clandestine and fraught use of mobile phones to contact the outside world from North Korea. This was then compared with the granted access, but limited use in South Korea due to socio-cultural barriers and discrimination against North Korean migrants.
The talk was attended by faculty members and graduate students who later engaged in dynamic Q&A and discussions relating to North Korea, migration, ICT for Development and communication research. Juhee also met with professors and Ph.D. students at the University of Macau to strengthen the local intellectual partnership in Macau.