2016•08•01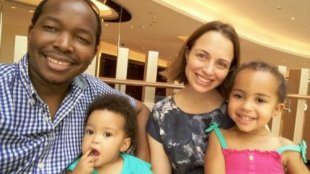 Hannah and Mamello are the latest researchers to join the United Nations University Institute in Macau. They have moved with their young family from Grahamstown in South Africa where they lived for 11 years to Macau, to join our research team at UNU Institute in Macau.
Hannah Thinyane (PhD, 2005, University of South Australia) is interested in small data and human computer interaction, particularly on mobile devices. Prior to moving to UNU Institute in Macau, she was working in South Africa for 11 years investigating the use of technology, in particular mobile devices, for development. She is the Founder and Co-Director of MobiSAM, a project investigating the use of mobile devices to increase citizen participation in local government around the area of service delivery. She is continuing her research collaboration with Rhodes University in Grahamstown, South Africa, where she is currently performing a pilot investigation on the use of the platform with a rural municipality in South Africa.
Mamello Thinyane (PhD, 2009, Rhodes University) has been engaged in Information and Communication Technologies for Development (ICT4D) research for over 10 years. He has been involved in the co-creation of context-sensitive technology solutions, within the Living Lab methodology, for deep rural communities in South Africa. His research interests have always been about exploring the ways in which technology solutions can enable individuals and communities to realize their aspirations and potential towards a happy life. With a background in Computer Science, Mamello has also gained an appreciation of broader non-computer science issues (e.g. sociological and psychological factors associated with technology adoption and appropriation, project management issues in multi-disciplinary and multi-stakeholder contexts) from being a Project Director at the Telkom Centre of Excellence in ICT for Development, hosted at the University of Fort Hare.