2018•02•07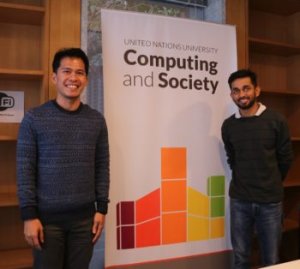 Don Rodney Junio and Dhaval Modi recently joined the United Nations University Institute in Macau research team, bringing new knowledge and experience that, combined with their passion for ICTD, will benefit the Institute as well as their professional development.
Don has a background in Economics and holds a Masters in International Political Economy from Nanyang Technological University (Singapore) and another one in Economics from Kyoto University (Japan). He is interested in the field of technology policy and the effective use of ICTs in driving inclusive and sustainable development outcomes. According to Don, "UNU Institute in Macau is an ideal place to pursue and nurture my interest in doing interdisciplinary ICTD relevant research, as I believe it provides an excellent environment and opportunity for people from different backgrounds to collaborate and work on various themes". Don will be working with the Gender Tech and Migrant Tech teams.
Dhaval is interested in ICT for Peacebuilding, and he believes that UNU Institute in Macau presents a unique opportunity to leverage his background in technology with his academic training in social sciences. He is a member of the Digital Peacekeeping project where he will work on integrating technology into the UN Peacekeeping Missions. "The diversity of research at UNU Institute in Macau and liberty to pursue different aspects of how technology could support and transform peacekeepers' effort motivates me", Dhaval said. Dhaval recently finished a Masters in International Peace and Conflict Resolution from the American University in Washington DC (USA) and also holds a Masters in Chemical Engineering from the University of Missouri (USA), where he focused on alternative fuels.