2018•11•20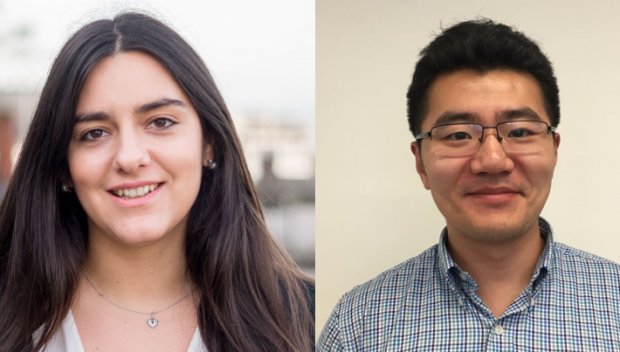 Two new Visiting Research Assistants, Francisca Sassetti and Fan Yang, recently joined United Nations University Institute in Macau bringing new knowledge and fresh ideas to the team.
Francisca, a Portuguese-citizen, is a recent graduate from the London School of Economics and Political Science (LSE). Her passion for ICT and development to empower people, especially the most vulnerable, brought her to UNU Institute in Macau. Francisca will contribute to the Migrant Tech research project that examines the use of technology to empower migrant workers.
---
"I joined UNU Institute in Macau for the opportunity to work on UN policy-oriented research that can help the most vulnerable people, such as migrant workers and victims of labor exploitation. I'm looking forward to learning from brilliant and experienced researchers like Dr. Hannah Thinyane, and gaining research tools and experience to be able to have a more positive impact in the world."
– Francisca Sassetti
---
Fan is an Australian national currently residing and studying in the United States, but coming to Macau by way of Vienna, Austria, where he undertook an internship with the United Nations Industrial Development Organization (UNIDO). His current research interests are in the applications of Agent-Based Computational Economics to model the growth of renewable energy industries in low-income countries. Fan will contribute to the Small Data lab, which aims to generate research outputs and inform policy towards the mainstreaming of Small Data approaches for sustainable development and to empower individuals and community level actors with relevant ICT artifacts.
---
"I found out about the Small Data work led by Dr. Thinyane and decided to join UNU Institute in Macau to learn from his expertise and to gain some academic experience at this unique institution. I am currently working on the project "Participatory Indicators for Tamil Nadu MSME Sector". The scope of my work includes the analysis of a preliminary set of quantitative and qualitative data in order to help facilitate the project's transition into its next phase. I hope that the time I spent at the CS lab will culminate in a policy or academic paper. I intend to conduct primary research on firms and policy makers for my dissertation and will use experiences at UNU Institute in Macau to understand the different perspectives and linkages between public and private actors."
– Fan Yang
---
Profiles: