2016•08•30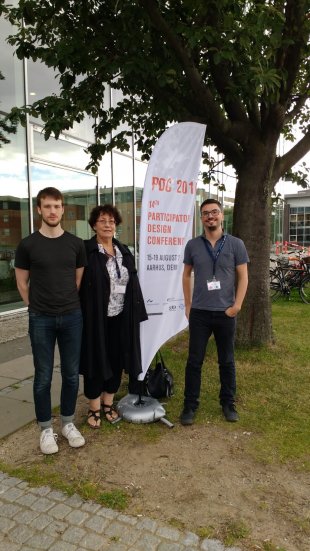 Ineke Buskens, Andrés Moreno, and Philip Garrison – researchers from the United Nations University Institute in Macau – attended the Participatory Design Conference (PDC'2016) in Aarhus (Denmark) this month. There, Ineke Buskens conducted a workshop titled "Who is it that Participates? Exploring an Intentional and Dialogical Self-Concept for Emancipatory Participatory Design". In it, Ineke laid out her approach to personal development. Workshop participants imagined their own future self as a way to incorporate their dreams and professional goals in an integrated whole.
Apart from intensive workshops, PDC included full and short paper presentations, interactive exhibitions and a bunch of social activities. The keynote speakers brought a summary of their research experiences. In one of them, Chris Csikszentmihályi of Madeira Interactive Technologies Institute highlighted the power, and the dangers, of provocation when aiming for a more democratic society. Interesting paper presentations included the work done by researchers from Malaysia, Namibia and South Africa to co-design software systems or methodologies with the communities using participatory methods.
Once they were in Europe, the UNU Institute in Macau delegation took opportunity to visit potential partners for their projects. Ineke Buskens met with Mirjam van Reisen, Professor of Computing for Society at the Leiden Data Science Center, the coming Legacy Colloquium for President Sirleaf Johnson was discussed. Andrés Moreno and Philip Garrison toured several Finnish universities, and gave a talk at the Department of Communications and Networking of Aalto. They also visited UNU-WIDER in Helsinki, where they learnt about their research and communication strategies.