2018•09•24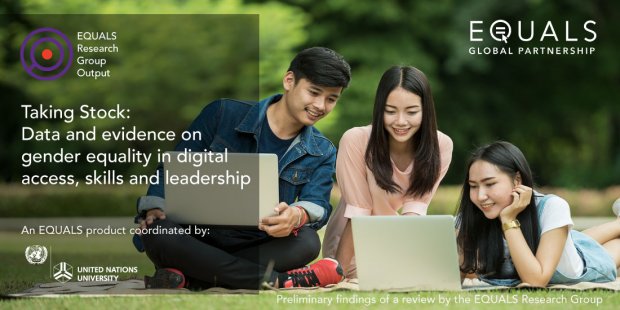 Taking Stock: Data and evidence on gender equality in digital access, skill and leadership
EQUALS Research Group, led by United Nations University Institute in Macau released a summary of preliminary findings of an upcoming report on gender digital equality. The preliminary findings were presented at the EQUALS Partners Meeting held in New York on 22 September 2018. Rector of United Nations University (UNU), Dr. David M. Malone and the UNU Institute in Macau Principal Research Fellow, Araba Sey, attended the meeting to present the latest findings. Rector Malone also gave an award to the winner of the EQUALS Tech Awards in the Research Category, where we look at initiatives working to expand digital gender divide knowledge in support of evidence-based decision-making.
The preliminary findings provide an assessment of gender equality in access, skills and leadership, and what that means to women and girls around the world. Barriers to gender digital equality and to women's digital skills development were highlighted in the findings. The summary also reviewed the status of sex-disaggregated data on information communication and technology (ICT) access, skill and leadership.
The full report with detailed versions of all chapters and case studies will be available in early 2019. Click on the icon below to read the full summary:
---
EQUALS is a ground-breaking global network delivered by a committed partnership of corporate leaders, governments, non-profit organizations, communities and individuals around the world working together to bridge the digital gender divide – by bringing women to tech, and tech to women – and in so doing, bettering the lives of millions worldwide.
Supporting the work of the three EQUALS Coalitions, the Research Group – led by the United Nations University Institute on Computing and Society – is fundamental to our emphasis on evidence-driven actions. Composed of experts in information gathering and analysis, the group focuses on generating knowledge about the existence, causes and remedies for gender tech inequalities, and on motivating key stakeholder groups, including private sector companies, government departments, regulatory agencies, and academia, to collect and share gender-relevant data.