2016•10•17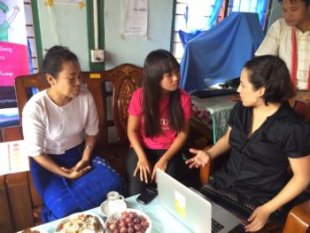 Note from the field
Our project "Psychosocial wellbeing of individuals in a society in transition: exploring the role of new technologies in Myanmar" is currently under way. Sammia Poveda, Research Fellow and lead of this project is currently in Myanmar conducting fieldwork with the two project partners UNDP and MBAPF. Her first week was spent visiting two villages, east of Yangon in Mon State. An existing UNDP project focuses on supporting the work of the May Doe Kabar National Network of Rural Women in the area. In 2015, UNDP joined forces with the network, creating iWomen, a free mobile application to support the lives of the members of the network and beyond.
There are a number of factors that make this project extremely interesting. First, this app was developed in a participatory way. Members of the network were actively involved in the design of the app, functionalities and content. Second, this app was developed and designed by Myanmar tech women only. Third, this app aims to impact women's psychological wellbeing, and women's information access. Fourth, as part of the project, a group of volunteers has been recruited and trained. These volunteers travel the country providing basic training to women, so they can learn how to use all the functionalities of the app, but also how to use their mobiles in diverse ways for their benefit. These characteristics make this project a good case study for the United Nations University Institute in Macau.
In the past two weeks, Sammia was able to conduct focus groups, interviews and surveys with more than 20 women. She also interviewed the volunteers and visited the surroundings of the training locations, to have a sense of their social constraints. In the upcoming weeks, Sammia will be conducting research together with the MBAPF in Yangon and Mandalay.