2018•09•04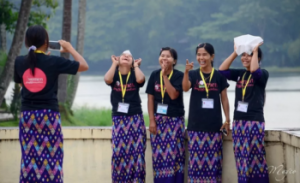 UNU Institute in Macau conducted a research based on the iWomen Inspiring Women App, a mobile application designed to inspire and empower women in Myanmar. iWomen app seeks to inspire, foster self-belief, and channel peer support for rural women to become leaders in their communities and it is the heart of a peer support structure connecting 22,000 women from 2,000 villages across Myanmar. This mobile app was designed by UNDP Myanmar in partnership with the Mae Doe Kabar, a Myanmar Rural Women's Network, using human-centered design methodologies.
The research explores how information and communication technologies (ICTs) can be harnessed to boost psychological and social (psychosocial) wellbeing of marginalized segments of society, such as rural women in Myanmar.  iWomen App seeks to improve access to knowledge resources, contacts, networks and mentors to foster rural women economic empowerment and social standing in the community.
Achieving the 17 Sustainable Development Goals is imperative, yet challenging, this research reflects on methods of implementation to effectively incorporate ICT into initiatives aimed at the improvement of psychosocial wellbeing of marginalized communities. The research also analyses whether a structured approach to inspiration can be used to inspire behavioral change at individual and community level. Benefits that ICT can bring on initiatives focusing on psychosocial wellbeing are highlighted in the research as well.  Individuals and organizations who wish to incorporate technologies to address issues related to psychosocial wellbeing of people in developing countries will find the thorough analysis presented in this research especially beneficial. The authors have provided recommendations to turns best practice into policy as illustrated in the graphic below.
Click on the cover to read the full report

---
Important Links
---
About the Authors of the Report
Dr. Sammia Poveda is a former Research Fellow at UNU_CS. She was the Principal Researcher on the Project "Psychosocial Wellbeing of Individuals in a Society in Transition: Exploring the Role of New Technologies in Myanmar". This research focuses on how to improve people's psychosocial wellbeing, as a way to improve their empowerment, and the role ICT can play for these goals.
Eleonora Gatti is an Environmental Scientist, alumni of Imperial College London MSc in Environmental Technology. Eleonora was the iWomen Inspiring Women App Project Lead and served UNDP Myanmar as Innovation Specialist for Women's Social and Economic Empowerment. Eleonora worked for UNDP Myanmar from 2014 to 2017, leading the design and development of the iWomen Inspiring Women Mobile App, among others.
---
Disclaimer: The report is the result between Dr. Sammia Poveda, former Research Fellow of the UNU Institute in Macau and Eleonora Gatti, iWomen App Project Lead of UNDP Myanmar. The views expressed in the publication are those of the authors and do not necessarily represent those of the United Nations, including UNDP, UNU Institute in Macau or their member states.
Featured photo credit: May Co Naing