2017•09•22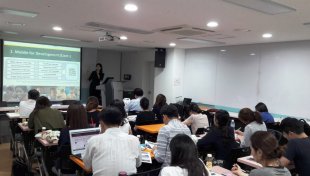 From September 18-22, Dr. Juhee Kang, Research Fellow at the United Nations University Institute in Macau, visited the Republic of Korea to present her research and to explore collaborations. Whilst in South Korea, she gave two seminars: one at the Korea International Cooperation Agency (KOICA), a governmental agency established to implement international aid programs on behalf of the Korean government; and the other at the Korea Advanced Institute of Science and Technology (KAIST), the leading Science and Technology University in the Republic of Korea.
Organized by the KOICA Official Development Assistance Research Team, Juhee delivered a seminar talk titled "ICT for Development: Past and Current Research", where she provided a critical overview of the past and current ICTD research and practices, and assessed the current status of ICT-based international aid projects in South Korea. She also discussed how South Korea can innovate its' ICTD projects while participating in the global movement concerning computing and society. Her presentation was followed by a series of meetings with ICT specialists and gender specialists exploring mutual interests.
During her visit to KAIST, Juhee gave a talk at the seminar organized by the Graduate School of Science and Technology Policy. The presentation, titled "Critical review of the past and current research of ICT for Development and the role of Korean universities", examined how ICTD research and practice has transformed from the access-centric, techno-centric approaches to mobile-based, user-centric and participatory approaches. As an example of user-centric ICTD research, Juhee presented her research on mobile users in South Asia and ICT use among North Korean migrant women. The talk also advocated the increasing roles of universities, especially colleges of science and technology, to participate in international development via ICTD education and engaged learning programs. The seminar was followed by a dynamic round of discussions and questions from KAIST faculty and students. In particular, several students involved in the KAIST Engineers Without Borders (EWB) participated actively in the discussion and shared their experiences of using appropriate technologies in Nepal and Mongolia, and discussed how ICTD research is impacting their learning.