2017•11•10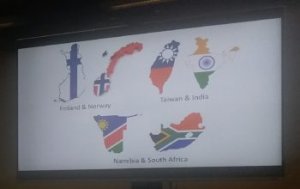 On Friday 10 November 2017, Dr. Amandeep Dhir visited the United Nations University Institute in Macau and presented his research on social media use and psychological well-being. Amandeep is a researcher (dual PhDs in Psychology and HCI) at the University of Helsinki as well as Aalto University, Finland. He also holds visiting positions at various universities including National Taiwan University of Science and Technology in Taiwan, the University of Bergen in Norway and North-West University in South Africa.
The talk, entitled "Social media fatigue & psychosocial well-being", discussed the recent social phenomenon of online information overload and its associated psychological problems such as fatigue, anxiety and improper decision-making. Amandeep introduced his latest research which explores the empirical associations of social media fatigue and different forms of psychological well-being including online social media comparison, self-disclosure, privacy and subjective well-being. Based on semi-longitudinal datasets on high school students, the study examined the varying effects of psychological well-being status on fatigue via structural equation modeling.
Amandeep's talk was followed by a discussion with UNU Institute in Macau researchers on a variety of topics ranging from research methods, gendered-use of social media, and impact of social media on youth.