2016•02•24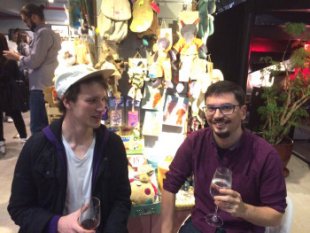 Andrés Moreno (PhD, 2014, University of Eastern Finland) and Philip Garrison (BSc, 2015, Carnegie Mellon University) are the latest researchers to join the United Nations University Institute in Macau. Together they will be working on social media aggregation and real time analysis and monitoring of user and machine generated content. Their efforts will be directed towards improving data acquisition, analysis, and action in conditions of crises response, political transformation, and election monitoring. Currently, their work is focused on the Aggie social media aggregation platform which they are developing further in collaboration with researchers at Georgia Tech and Sassafras Inc.
Andrés Moreno has combined his interest in ICT for Development and Computer Science Education during his research and consultancy career. He has successfully integrated different research approaches and tools to create innovative solutions. He was part of the team that develop Jeliot 3, a tool used all around the world to teach Java programming through smooth animations. Andrés has spent most of his ICT4D career in Mozambique, putting into action the often conflicting plans of local and international partners. Recently, he started an ICT capacity project called ICT4EEDU at EIT, the biggest Eritrean university.
Coming from a background in software engineering, Philip Garrison aspires to develop caring and empowering ICT artifacts. Philip is interested in the potential of participatory design to produce ICTs that build community and capacity. In his current work, Philip seeks to empower civil society organizations through local social media data.