2018•11•28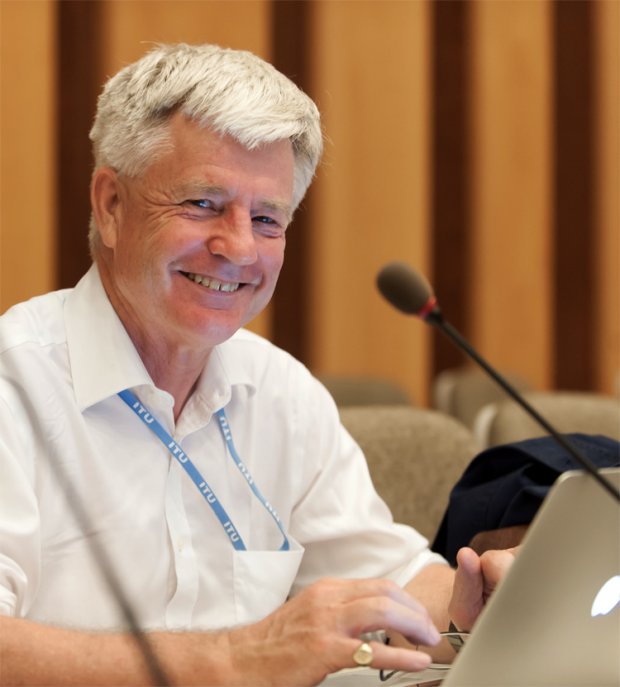 From 2G mobile phones to robots – technologies are transforming people's lives. Professor Tim Unwin, a world-renowned scholar in Information and Communication Technologies for Development (ICT4D), made a week-long visit to UNU Institute in Macau to work with our researchers and conduct workshops for the team. We could not miss this opportunity to learn more about him and his views on technologies and international development.
---
You have several roles in your title. What exactly do you do? What's your day like?
Yes, it's confusing, but being semi-retired means that I have a huge amount of freedom in what I do.  No day is the same!  Back in 2011, I decided to take early retirement because I did not feel that working in a British University any longer provided the right intellectual context for me, nor the opportunity to engage in the sort of practical action that I want to be engaged in.  However, I am still heavily involved in helping to facilitate the research group that we created back in 2004 at Royal Holloway, University of London, which became the UNESCO Chair in ICT4D in 2007.  It is great to be able to explore ideas with researchers from different disciplinary background, and to help them push the boundaries of knowledge forward at the interface between technology and society. 
I also seem to spend much of my time at the moment supporting and working with colleagues in UN agencies such as UNESCO, the ITU and UNICEF.  I like nothing better, though, than being in the field, learning from people about the impact that ICTs are having on their lives, and how some of the poorest and most marginalised people can use these technologies to transform their lives.  Most recently we created TEQtogether to help change men's attitudes towards women and technology, and so I also spend quite a bit of time developing our work on this – not least creating our website!  My days are long, and my nights short.
---
Why do you choose to focus your research on ICT4D?
I have always loved technology, and enjoyed designing machines as a child and programming in Fortran in the mid-1970s! However, in the early 2000s I had the privilege of leading imfundo: Partnership for IT in Education, based in DFID and for several years spent at least a third of my time in Africa working with our partner organisations to implement initiatives that used ICTs in education.  This showed me the huge potential that technology has to help transform the lives of some of the poorest people, and so when I left that role I wanted to encourage more people to engage in the highest possible quality of research in the interests of the most marginalised – ICT for Development (ICT4D) – but development defined as reducing inequality rather than maximising economic growth.
Over time, I have come to recognise that all too often technologies are used in an instrumental way that primarily serves the interests of the rich and powerful, and so I have become even more active in promoting the need for us to work with poor and marginalised people to help them empower themselves through technology.  This shift can be seen in the evolution of my ideas from my edited book ICT4D: Information and Communication Technologies for Development (2009) to my latest book Reclaiming ICT4D (2017).  This is not only a moral agenda, but it is also a very practical one.
---
In what ways can digital technologies empower people especially the vulnerable and marginalised groups in the society?
This is a huge – but very important – question!  For a long while I have been working with people with disabilities to explore their needs and identify ways through which they can be empowered through the use of ICTs.  People with disabilities account for around 10% of the world's population, and are the most marginalised of all people in the world.   Those with more disabilities have far more to gain through the use of ICTs than do those of us who have fewer disabilities. Text to speech and speech to text technologies, for example, can enable people with hearing and visual disabilities to communicate; the use of avatars (see the work of Hao 2) can unleash talent and change lives of people with autism by building digital skills for employment.
Other significantly marginalised groups include out of school youth and refugees.  They too have much to gain from the use of ICTs.  Non-formal curricula, educational content designed specifically for their use, and games and video can all help them gain the skills to enable them to earn a living.  However, all ICTs can have downsides with potentially negative impacts, and so it is essential that we work hard to minimise the harm that they can cause.
---
In your view, what are the emerging trends in ICT4D?
Let me just focus on three trends that I think are important.  First, despite all of the rhetoric that ICTs can indeed contribute to so-called "sustainable development" and the UN's Agenda 2030, most evidence suggests that they are instead being used rapidly to increase inequalities in the world.  This is unsustainable, and will soon give rise to considerably enhanced social and political tensions at a variety of scales.  We must therefore work very much harder to ensure that the world's poorest and most marginalised people can indeed benefit from the potential of ICTs to help transform their lives.
Second, we are on the verge of a dramatic transformation in the relationship between machines and humans; perhaps it is too late to prevent our descendants from all becoming cyborgs.  We urgently need a global public debate on whether this is really what people want.
Third, the balance between privacy and security continues to evolve in unexpected ways.  As I continue to explore the darker side of technologies, I realise that ICTs are indeed being used for deeply unpleasant purposes, and we need to find ways through which these can be prevented while also enabling people to retain their privacy.
… to be continued.
---
Professor Tim Unwin is the UNESCO Chair for ICT4D and a member of the UNU Institute in Macau International Advisory Board. Prof. Unwin's research is concentrated on ICT4D, focusing especially on the use of ICTs to support some of the poorest and most marginalised people and communities.
Next, in Part 2, Prof. Unwin gives his takes on the challenges and opportunities that emerge from technological innovation and their implications for the society. He also provides some tips for those who are interested in working on ICT4D.