2017•02•01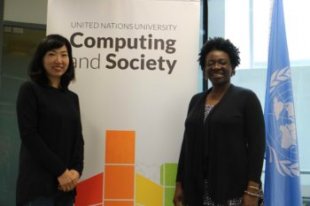 We are excited to announce that two successful researchers have recently joined the United Nations University Institute in Macau. Araba Sey (PhD, 2008, University of Southern California) and Juhee Kang (PhD, 2014, Michigan State University) will enrich and enhance UNU Institute in Macau's multi-disciplinary research team.
Araba is looking forward to working with UN Women and the ITU to support the EQUALS Global Partnership's evidence-based approach to promoting gender equality in the digital age. The EQUALS Global Partnership aims to create "an unstoppable global movement where women and girls are equal participants in the digital technology revolution." She will be leading the EQUALS Research Group, a crosscutting body that will work to advance research in the partnership's three areas of action – access, skills and leadership. Overall, she hopes "to advance research that highlights the significant functions that ICTs are playing in the lives of people of all socio-economic backgrounds, while recognizing that the avenues to desired impacts are complex and have to contend with persistent social, economic and cultural systems."
Juhee focuses on understanding technology adoption and use behaviors of people in vulnerable situations. Her doctoral research examined motivational and contextual drivers of mobile use behaviors among low-income users in six South Asian countries. Prior to joining UNU Institute in Macau, Juhee's research has spanned academic, private and public sectors including UN-APCICT (UNITED NATIONS Asian and Pacific Training Centre for ICT for Development/ESCAP) and the ITU Office for Asia and the Pacific. At UNU Institute in Macau, Juhee is currently working on Migrant Technology with a particular focus on mobile use among North Korean defectors, while also collaborating with the Aggie project on social media for election monitoring.
If you are interested in becoming part of our world-leading research start-up, please check how to join our team here.