2017•05•11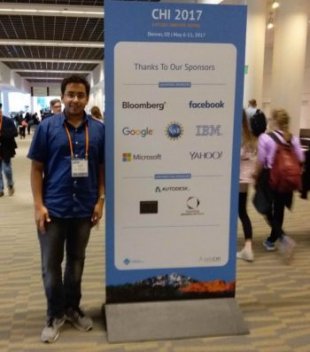 Karthik Bhat, Research Assistant within the Digital Peace Lab and the Small Data Lab at the United Nations University Institute in Macau attended the ACM CHI Conference on Human Factors in Computing Systems which was held in Denver, Colorado, USA from the 6th – 11th May 2017. CHI 2017 brought together 2898 people from multiple disciplines and a diversity of cultures to explore new ways to practice, develop and improve methods and systems in HCI, and to discuss ideas that could lead to innovations.
CHI included full paper and poster presentations, and interactive exhibitions. A highlight of CHI 2017 was talks by awardees of the ACM Social Impact award including Dr. Indrani Medhi Thies. Dr. Thies' talk, titled "Designing for Low Literate Users", addressed the design of optimal visual representation for graphics for non-text interfaces. To elaborate, Dr. Thies spoke of projects like VideoKheti and KrishiPustak undertaken at the Technology for Emerging Markets group at Microsoft Research, Bangalore. The talk ended with design recommendations and the opportunities for innovation in designing for low literacy users for the CHI community to consider.
Karthik also held informal meetings with researchers working on fake news and its propagation on social media, and digital technology cultures and innovation in Ghana, to discuss ideas pertaining to the Wisdom of Multiple Crowds During Critical Events research at UNU Institute in Macau.