2017•11•30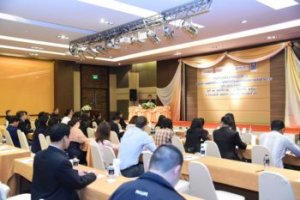 The United Nations University Institute in Macau co-hosted a stakeholder consultation workshop with The Mekong Club, United Nations Action for Cooperation Against Trafficking in Persons (UN-ACT) and Department of Special Investigations (DSI), in Bangkok from 30 November – 1 December. This workshop aimed to gather feedback from government and civil society organizations on the use of a mobile phone application for preliminary human trafficking victim identification. It was opened by the Deputy Director General of the DSI, with welcoming remarks from Ms. Kaori Kawarabayashi, Regional Project Manager of UN-ACT.
The workshop brought together stakeholders with expertise in tackling human trafficking from three specific areas: forced labor (inland, and at sea); forced prostitution; and forced begging. The first day of the workshop focused on finalizing lists of questions to be used for preliminary victim identification in each of these areas. These lists built on three initial stakeholder consultations in April, July, and October of 2017. This workshop included stakeholders from NGOs and inter-governmental organizations, as well as a significant Thai government presence, including Ministry of Labor, Ministry of Social Development and Human Security, and Royal Thai Navy / Command Center for Combating Illegal Fishing.
On the second day of the workshop, Dr. Hannah Thinyane, Principal Research Fellow at UNU Institute in Macau demonstrated the mobile application and content management system that the Migrant Tech research team has developed. Participants showed great interest in the system, as well as being involved in the pilot of the system, which is to begin early in 2018.