2017•10•05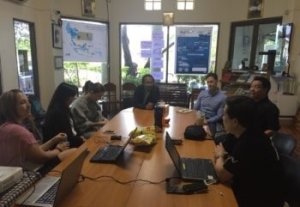 The United Nations University Institute in Macau, The Mekong Club, and Thailand's Department of Special Investigations (DSI) hosted a series of working groups with key stakeholders in forced labor and human trafficking in Thailand from 3rd-5th October. The working groups included participants from local and regional NGOs, human trafficking survivors, inter-governmental organizations, human rights lawyers, government, and embassy staff; bringing together key role players in three themed groups: processing and manufacturing, prostitution and child labor, and exploitation at sea / at port.
Each of the meetings began with an introduction to the collaboration between DSI, UN-ACT, UNU Institute in Macau and The Mekong Club, by Khun Jatuporn from DSI. This presented the Thai government's perspective and support for the victim identification initiative. Dr. Hannah Thinyane, Principal Researcher at UNU Institute in Macau then demonstrated the prototype content management system and mobile client to support further discussions between participants. In the final session of each working group, Silvia Mera presented the sector-based lists of indicators of human trafficking that had been developed and refined over the previous working group sessions.
Across each working group, NGOs and human rights advocates showed great interest in the project and agreed to participate in future pilot studies of the system. They showed interest in the possibility of using the system: to bridge the communication gap between migrant workers and frontline responders (multidisciplinary team); to supplement inadequate training and understanding of the identifiers of victims of human trafficking in particular sectors; to enhance the confidentiality and sense of security for migrant workers when answering interview questions; and to avoid problems resulting from mistrust either towards interpreters, authorities or other stakeholders.