2017•06•29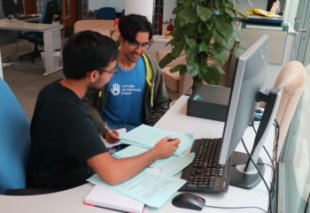 Suraj Sehgal and Vikram Kamath Cannanure are spending their summer at the United Nations University Institute in Macau as part of the short-term student research initiative. The initiative aims at offering students interested in gaining quality research experience in the field of ICTD the possibility to spend a few months in Macau working closely with our interdisciplinary research team.
Suraj is a student at the Georgia Institute of Technology, studying Industrial and Systems Engineering with a minor in International Affairs. During his stay in Macau, he is working with the researchers of the Digital Peace Lab, analyzing discussions from focus groups to better understand how ICTs can be leveraged to meet peacekeepers' needs. Suraj told us that "for someone who has been interested in a variety of fields, including anti-human trafficking, renewable energy systems, and college food insecurity, UNU Institute in Macau has been an amazing opportunity to interact with researchers working on impactful projects across many disciplines. It has really helped me to explore the space of ICTD in a supportive and collaborative work environment".
Vikram is a Ph.D. candidate at the Human-Computer Interaction Insitute in Carnegie Mellon University. His research interests lie in building sensing technology to help a targeted audience. He is currently contributing to the Small Data Lab where, under the supervision of Mamello Thinyane, they are exploring the use of mobile technology and design research to support local NGOs. As part of this research, they are analyzing data to learn about the correlation between NGO goals and UN's Sustainable Development Goals. Vikram expects to learn about ICTD methodologies through the internship, and hopes to continue working in the ICTD domain for his doctoral research.
Students who find a genuine interest in the Labs and projects currently pursued at UNU Institute in Macau can have a look at the Join page to understand more about the requirements, benefits, and application procedures.