2015•08•11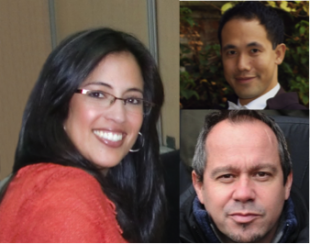 The United Nations University Institute in Macau is thrilled to introduce an inaugural set of Research Fellows with more to come soon.
Han-Teng Liao (DPhil, 2014, Oxford) works in the areas of small data and HCI research for civic and cross-cultural engagement. He is a research professional with combined information science, media/communication and open source/open data working experience.  Liao's research focuses on ICTs and HCI for human and political development, with the use of webometrics, user-generated data and social network analysis. In particular he studies how geographic and linguistic factors influence mobile and Internet-enabled services and their potentials in cross-cultural and/or transnational growth/dynamics/exchanges.  His doctoral work compares two major user-contributed Chinese encyclopedias (Chinese Wikipedia and Baidu Baike), studying their impact on user interactions from regions such as Mainland China, Hong Kong, and Taiwan.
Sammia Poveda (PhD, 2015, Royal Holloway, Univ of London) has been evaluating approaches to basic ICT training in Brazil, aiming to find out what elements may improve meaningful ICT appropriation and usage. Sammia is also Co-coordinator of the Technology and Design Working Group of the Human Development and Capability Association (HDCA), and runs a Latin American ICT4D discussion group using Facebook as a platform. She was a co-author of the UNICEF report, Children, ICT and Development, and has worked as a Research Fellow for the Sheffield Institute for International Development. Before her PhD, Sammia worked in international development for four years with the German Development Agency (GIZ) and the Amazon Cooperation Treaty Organization (ACTO).
Tony Roberts (PhD, 2015, Royal Holloway, Univ of London) focuses on people's appropriation of technology to secure development and social justice. His doctoral research draws on critical pedagogy and critical feminisms to investigate women's use of ICTs to address gender discrimination and disadvantage in Zambia's emerging technology sector. Prior to his doctoral studies Tony founded and for ten years was the CEO of Computer Aid International, an international NGO that has provided almost 250,000 computers to education and development organizations in over 100 countries. Tony blogs about ICT4D at http://appropriatingtechnology.org/ and tweets about ICT4D at https://twitter.com/phat_controller.