2016•11•10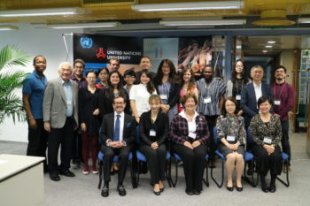 On Thursday, 10 November 2016, the United Nations University Institute in Macau hosted a workshop entitled "Women IN ICT: Exploring Challenges, Envisioning Solutions". The workshop, organized by Ineke Buskens – Principal Research Fellow at UNU Institute in Macau – focused on the challenges of recruitment and retention of women in the ICT sector in East Asia, and brought together experts from China, Hong Kong, Indonesia, Korea, Macao, Singapore, Taiwan, and Thailand.
The three main aspects discussed among the speakers and participants were the perceived lack of employable female candidates; the unconscious cultural attitudes of gender stereotyping by employers in the workplace; and the work-life balance issues for women in the ICT sector. The activities included presentations which were complimented with panel and group discussions, and the event marked the launch of a network of researchers in East Asia to tackle these topics.
The participants concluded the workshop by formulating several themes and points of attention that a Research Network focusing on Women IN ICT (WIICT) in East Asia would have to focus on. Wen Ling Hong and Ineke Buskens are developing these points into a draft concept proposal for further discussion and finalization. It is envisaged that the WIICT Network will be led by Wen Ling Hong and hosted at the Center for Science, Technology and Society (STS) Research at the National Kaohsiung Marine University in Taiwan, of which Wen Ling is the Director.