2016•07•21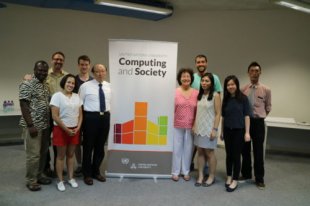 On Thursday, 21 July 2016, Professor Wei Zhao, Rector and Chair Professor of Computer and Information Science of the University of Macau visited the premises of the United Nations University Institute in Macau. Professor Zhao is also a member of UNU Institute in Macau international Advisory Board. During his visit, Professor Zhao presented his views on Big Data and social problems, based on his extended experience on the field. Professor Zhao proposes dealing with these issues via 'Data Trading', hoping for fairer and more efficient management of data. The presentation raised quite interesting topics and opened a space for the exchange of ideas and opinions among UNU Institute in Macau researchers and Professor Zhao.
His talk was entitled "Beyond AlphaGo", and the abstract can be found below. Professor Zhao intends to continue this line of research at the University of Macau, and UNU Institute in Macau aims to support his work whenever possible.
"Beyond AlphaGo" abstract:
Sharing physical goods by trading has always played a critical role in the progression of our civilization as it benefits both providers and consumers, stimulating productivity and improving efficiency. In this digital era, we have to address how to share data in a fair and efficient manner. There are currently two prevailing viewpoints: One group promotes free-sharing data, while another argues for protection of data due to privacy concerns. While each of these has merit in some situations, we believe that most of the time data should be shared via trading. Unfortunately, the conventional system for trading physical goods may not be suitable for trading data. Innovations are badly needed for developing a new system enabling fair and efficient data trading. This talk examines various legal, economical, and technical issues related to fair and efficient data trading in order to develop new data industry and business that can benefit everybody.