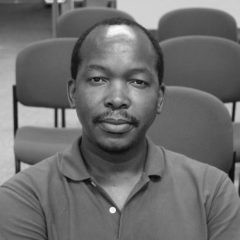 OFFICE:

Casa Silva Mendes, Estrada do Engenheiro Trigo No 4, Macau SAR, China

E-MAIL:

mamello​@unu.edu

NATIONALITY:

Lesotho
Research Interests
Critical Data Studies
Cyber resilience
Cybersecurity
Digital Technologies and Sustainable Development
Education
Rhodes University (PhD in Computer Science)
Rhodes University (MSc in Computer Science)
Rhodes University (BSc (Hons) in Information Systems)
Biographical Statement
Mamello Thinyane is a global citizen who is passionate about scientific research and technology innovation to contribute to the achievement of a sustainable good life for all.
He is a Principal Research Fellow at the United Nations University Institute in Macau, where he leads research on the Smart Citizen Cyber Resilience project. This project is undertaking research and developing tools to enhance the resilience of citizens and civil society stakeholders against adverse cyber incidents in smart digital futures. He also leads research on Data and Sustainable Development, formerly the Small Data Lab, which critically investigates the sustainable development data assemblages and develops artefacts to support the active participation of civil society stakeholders in these data ecosystems.
Before joining UNU, Mamello was an Associate Professor in the Department of Computer Science at the University of Fort Hare in South Africa, as well as the Director for the Telkom Centre of Excellence in ICT for Development at the same institute. He is a former Visiting Researcher at the Australian Centre of Cyber-Security at the University of New South Wales in Canberra.